---
Acronis True Image 2018 Build 9850 Multilingual Bootable ISO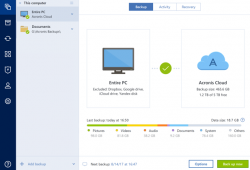 644 MB...506 MB..netest..!!!!...softy mam kvuli mazani linků v záloze...
Linky sa zobrazia až po prihlásení. Prihlás sa
Chces vidieť plný obsah a nie si zaregistrovaný? Zaregistruj sa

Acronis True Image 2018 Key Features:


Disk backup to a local storage and to Acronis Cloud
File backup to a local storage and to Acronis Cloud
Rescue bootable media
Hard disk cloning
Data archivhing
Family data protection
File synchronization
Security and privacy tools
Full Disk-Image Backup. Back up your entire computer including your operating system, applications and data, not just files and folders to an external hard drive or NAS.
Universal Restore. Restore backed up data including your operating system, application and all your data to your existing computer or an entirely separate piece of hardware, or restore specific data as needed.



New in Acronis True Image 2018:




New!

Backup Statistics and Activity graphically represents content of a backup, provides statistics for backed-up file categories, such as documents, photos, videos, music, and others. Backup activity streams allow you to track history of backup operations starting from a backup creation, the operation statuses, and to analyze the statistics for successfully backed-up data.

New! Active Protection Dashboard monitors how many potentially risky processes have been flagged, and the number of files duplicated in cache to protect them from the risky processes. The dashboard provides statistics for blocked, trusted processes and allows you to manage a permission list so your trusted applications could run as normal.

Improved Active Protection compatibility with Windows Defender and other third-party antivirus software.

New! Faster file and system recovery with the enabled WAN optimization option that increases download speed from Acronis Cloud data centers.

New! Faster Incremental Backup for disk and partition backups with Acronis Changed Block Tracker (CBT). The Volume Tracker reduces the amount of time taken to perform incremental or differential images by monitoring the changes to an image in real-time mode.

New! Laptop power setting allows you to pause backup while working on battery to save the battery power. The paused backups will continue automatically after connecting power adapter.



Usability and other improvements:


Mobile devices are available in the backup source list.
Access to backup shortcut menu with right-click.
Progress bar was updated with application window blurring.
Fixed issue with the search dialog that did not provide functionality of recovering several files from different backup versions.
Fixed issue with possibility to move a backup from a password-protected network to a local drive or to another share.

Acronis True Image 2018 Build 9850 Multilingual
Linky sa zobrazia až po prihlásení. Prihlás sa
Chces vidieť plný obsah a nie si zaregistrovaný? Zaregistruj sa

Bootable ISO
Linky sa zobrazia až po prihlásení. Prihlás sa
Chces vidieť plný obsah a nie si zaregistrovaný? Zaregistruj sa